Noorwegen
42 tenten
Met interieur
Dierenpark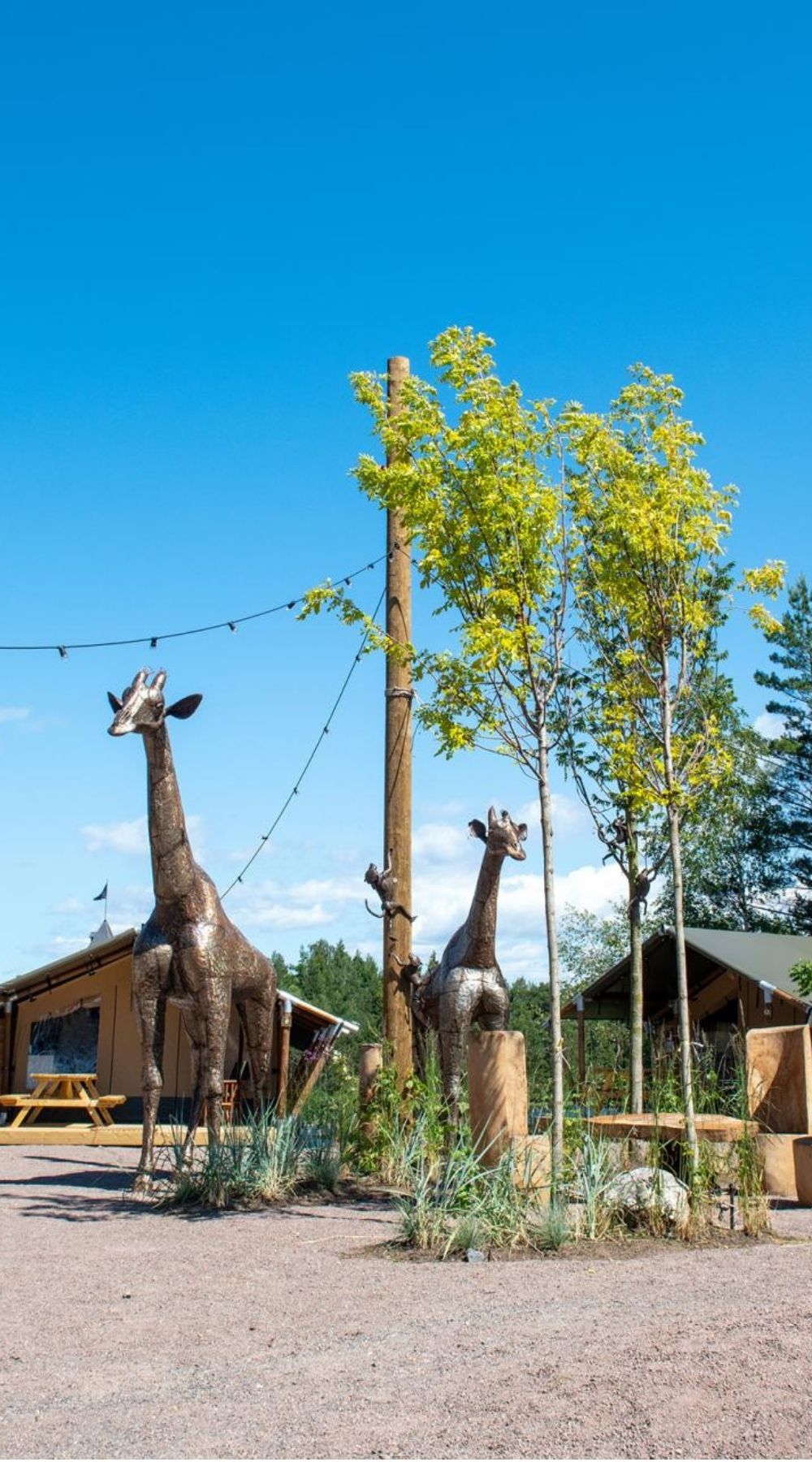 Beleef het echte safarigevoel in de safaritenten van Dyreparken!
Voor een unieke glamping ervaring bent u bij Dyreparken aan het juiste adres! Wat een bijzonder project om safaritenten voor te mogen leveren. In 2019 hebben we hier de eerste 19 safaritenten gebouwd en voor het seizoen 2020 heeft het park uitgebreid met 13 tenten.  De keuze voor glampingtenten was niet zo moeilijk. "We wilden graag investeren in iets dat in Noorwegen nog niet bestond. Tevens wilden we iets anders in ons accommodatieportfolio en dat is een groot succes gebleken. We hebben 99,7% bezetting gehad tijdens ons hoogseizoen. Wat kan je nog meer verwachten?"
Het Safarikamp bestaat uit 32 safaritenten en ligt op steenworp afstand van de ingang van de dierentuin. Pretpark en dierentuin Kristiansand is de meest bezochte attractie van Noorwegen. Het is totaal anders dan andere Europese dierentuinen, in Dyreparken hebben de dieren grote open ruimtes om in rond te dwalen. Wanneer de gasten van Dyreparken in één van de unieke safaritenten verblijven, beleven ze het echte safarigevoel en dromen ze letterlijk weg naar de savannes, oerwouden en toendra's. Een unieke en bijzondere ervaring die de gasten nooit meer zullen vergeten!
Voor het seizoen 2021 heeft Dyreparken wederom uitgebreid met 10 Compact safaritenten, dit keer op het water geplaatst. Dat brengt het totaal aantal tenten op 42 stuks!
Gevarieerd aanbod aan safaritenten: voor ieder wat wils
Dyreparken heeft gekozen voor een gevarieerd aanbod aan safaritenten. De gasten hebben de keuze  uit de Safaritent Wood, Compact, XS of de Safari Cottage. Daarnaast is onze Outstanding Lodge omgetoverd tot receptie. De safaritenten zijn volledig ingericht met een fijne zit- en eethoek, een ruim terras en een volledig ingerichte keuken. Daarnaast beschikken de meeste tenten over een eigen badkamer met inloopdouche. De gasten kunnen ook kiezen voor een goedkopere optie zoals de XS of de Compact, zonder sanitair. Zo is er voor ieder wat wils. En vergeet de safaritenten met uitzicht over het meer niet, dat is pas lekker wakker worden!
Wat Dyreparken over ons zegt
"Na de Outstanding safaritenten in Denemarken te hebben ervaren volgde het eerste telefoontje met Outstanding adviseur Remco. Hij pakte 'de essentie' van ons gesprek op en reageerde adequaat! Daarna verliep de opvolging en verdere samenwerking erg soepel. We hebben 99,7% bezetting gehad tijdens ons hoogseizoen. Wat kan je nog meer verwachten?!" – Dyreparken